"AQUA WORKS 2015"
[VideoSparks Series]
Hakudo KOBAYASHI's video performance"AQUA WORKS 2015"
(with live sound by Tsumugine)
Hakudo KOBAYASHI is one of the pioneers of videoart in Japan. This program shows his retrospective and new video perforomance with live sound. Look! Hakudo's first calligraphy of the year on video monitor!


date: 24(sat.) January 2015 start:19:00 - 21:00 (open:18:30-)
venue: Sakaiki
http://sakaiki.modalbeats.com/
access:
click
entrance fee:1500yen (with 1 drink)

[screening program]
Kunya Kunya (1973)
Play the Video (1974)
Lapse Communication(1975)
Le Palais Ideal (1999)
Un known Land (2011)
Swim (2012)
Aqua Works (2010/ 2013)
Panorama (2010-2015)
[live performance]
"AQUA WORKS 2015"
video performance by Hakudo KOBAYASHI
with live sound by Tsumugine

Hakudo KOBAYAYSHI
Born in Sendai city, 1944. After graduating Tama Art University in 1968, Kobayashi presented his Hakudo Machine series at Japanese Contemporary Art Exhibition and Osaka Expo 1970. In 1971 he organized communication games using Telex with Fujiko Nakaya and has worked in video media since. As well as teaching at Seian University, he has made single channel video pieces, organized a video community system in Kunitachi City in Tokyo and campaigned for CATV and Citizen Video.
.

Tsumugine
TSUMUGINE is sound performing group founded by Yasuno Miyanouchi, since year 2008. Its performing style doesn't need music score but with voice, keyboard harmonica, and those particle of sounds become special environmental sonic effects. They won the first prize at "Experimental sound, art and performance Festival 2008" organized by Tokyo Wonder Site. They perform not only solo concert but also alternative space as a gallery, an old house and tunnel. Recently they have music workshop called as "Tsumugine Methods" web site= www.tsumugine.com/
produced by VIDEOART CENTER Tokyo
supported by
Arts Council Tokyo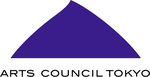 [screening program]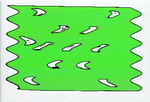 Kunya Kunya 1973

Ball shaped toys as motifs; this work is made with "Scanimate", American analog computer that made it possible to control width, depth, and the colors of the images.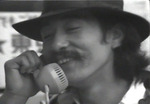 Play the Video 1974

Playing the "TV phone" as improvising. This work is made to think about the possibility of two-way communication. Like the titles it is produced with the sense of fun.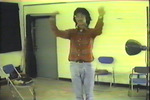 Lapse Communication1975
Transmitting the action using video.Little slip of physical expression is expanded within this funny game.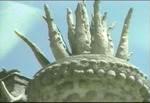 Le Palais Ideal 1999

The artist visited a very Curious construction located in south of France, Palais idéal du facteur Cheval.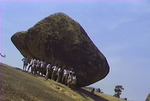 Un known Land 2011

In south of India, there is "Butter Ball" that is size of 10 meter in diameter.The artist ran his stabled camera for half a day and edited out as time-lapse video work.Questioning about the meaning of existing space beyond the time for all eternity.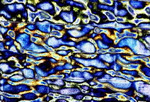 Swim 2012

Water shines as winter sunlight reflected. Imagery is decomposed to still pictures, and one by one they are painted to become a picture. Again, it was re-composed to be a moving imagery.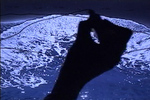 Aqua Works 2010/ 2013

Reflecting waves screened on to the monitor, artist draws the line over where it's reached.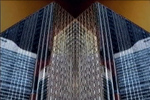 Panorama2010-2015

What is to "SEE"? The footage of 360 degree panning is disassembled and each still is painted and made into pictures.
[Live Video Performance]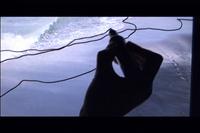 "AQUA WORKS 2015"

video performance by Hakudo KOBAYASHI
with live sound by Tsumugine


the first public performance / world premiere