Carlo Sansolo visited Tokyo
15 - 22 Aug. 2008
VCT invited Brazilian videoartist, Carlo Sansolo to Tokyo purpose for having a exhibition, screening and artist talk event.
<!--[if !supportEmptyParas]-->
<!--[endif]-->
VIDEOART CENTER Tokyo presents
BRAZILIAN VIDEOART / Carlo Sansolo
"Visualization of boundary of Cities Rio de Janeiro - Tokyo"
<!--[if !supportEmptyParas]--> <!--[endif]-->
date:19(sat.) July 2008 15:00-17:00 (open 14:30)
venue:B1F Multi-use hall, Okuma Memorial Tower(build no.26) at Waseda University
-------------------------------------------------------------------
VCTokyo has been introducing emerging video artist and activities.Video art from Calro Sansolo who acts mainly in Rio de Janeiro,. shows us certain criticism against media society under the progressing information-capitalism but with Latin sprits and its humors at the same time. This time VCTokyo invites Carlo Sansolo from Brazil for discussion about possibility of collaboration among two countries Japan- Brazil, and the global situation of video art.
<!--[if !supportEmptyParas]--> <!--[endif]-->
Carlo Sansolo
born in 1969, Rio de Janeiro. Started designing of poster art or video in 1999, and also founded and organized La Isle, independent art group. La Isle held mediaart festival "Prog:ME" in 2005 introduced international edge artist's works. This time is the first visit to Japan for Carlo Sansolo.
<!--[if !supportEmptyParas]--><!--[endif]-->web site:http://www.laisle.com/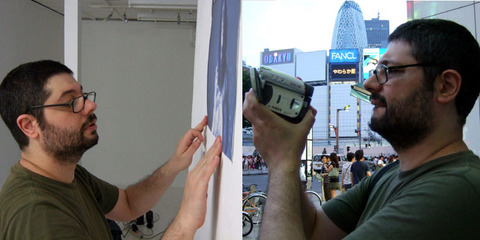 Installing the show and Carlo shot Tokyo.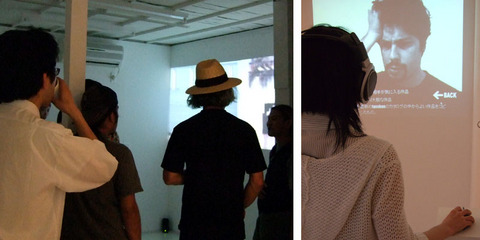 Exhibition at
MOTT gallery
[Screening Program]

Brazil Program

1. Alexandre milagres "Video Popular" 2004 5:00


2.Daniel Saraiva "estes recem tiradas" 2006 3:22

3.Joacelio batista "o relacionamento entre midia ea sua audiencia." 2007 - 4:10

4. MM nao e confete "HOMAGE MASHUP."
5.Marcos Bastos "Remote Controling Pasolini" 3:00

6. Erika Fraenkel " 7 Lindos Pratos" 2004 -4:00

7. Carlo Sansolo "Ozuland 002 " 9:56 min - 2006
International Program

1. Andres Senra "La tempestad" Spain- 2006 -4:00

2. Pascal Lievre e Benny Nemerofsky Ramsay "Patriotic Act" Franca e Canada. 2005

3. Alexandra Dementieva "Chat" Russia / Belgium 6:59  2006

4.Mihai Grecu "Freon" Romenia 7:50 2005

5.Marcello Mercado "Primordial Hunters. Ur-Jager" 12´ 07 2007 Germany/South Africa

6. Bart Van Dijck "NO FEAR " 6:00 2008
Screening on the monitor/ Brazilian Works
1. Nelton Pellenz "L-Co"
2.Marcos Bastos " Word Processing Godard"
3.MM nao e confete "ZAPPING REMIX"
Installation
"Undefined Boundary" / Carlo Sansolo, Erika Fraenkel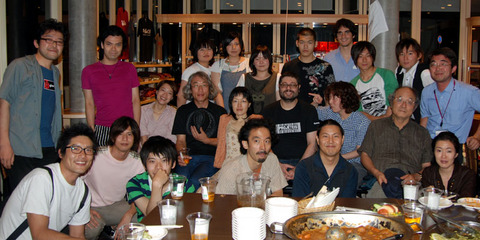 Audiences and staff surrounded mr. Carlo Sansolo.