EXPERIMENTAL SOUND & ART FESTIVAL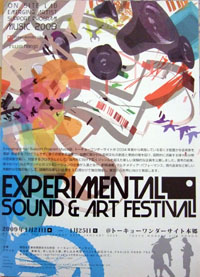 VCT participating artist, Masayuki Kawai and Kentaro Taki will join following music festival as videoartists.
EXPERIMENTAL SOUND & ART FESTIVAL
On Site Lab Emerging Artist Support Program Music 2008
2009.01.21(Wed)-25(sun. )
at Tokyo Wonder Site Hongo
January 21(wed.)19:00-
"When the images goes virtual"
Solo piano concert : Akiko Samukawa
(conposition Yukiko Watanabe/ video + installation
Kentaro Taki
)
Admission:2000yen
January 23 (Fri.), 2009 20:00 (Door Open 19:30)
Miyuki Akimoto+Masayuki Kawai 
"Image echoes - The Variations after Kourin's 'Kouhakubai-zu"
Performer: Miyuki Akimoto(Composer) / Masayuki Kawai(Video Artist) / Makoto Ezoe(Violin) / Yayoi Tanaka(Piano)
Admission:2,000yen
also VCT supports
Charles-Eric Billard"3-D Space Slitars" in January 22 (Thu.), 2009 17:00 (Door Open 16:30)Admission: 2,000yen.