Sound & Vision III -reflect/ mediaart exhibition in Yokohama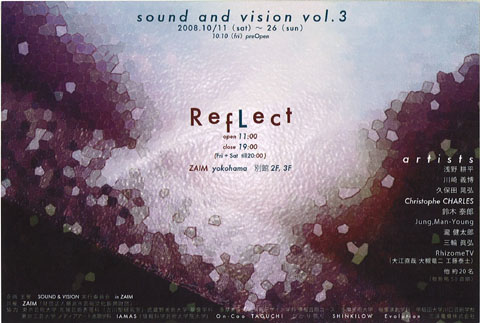 Sound&Vision counted the third events at ZAIM in Yokohama.
Exhibition and live concert event of vidual and audio artists.
11(sat)-26(sun) Oct. 2008 / pre-open 10 Oct. (fri)
open 11:00-19:00 (Fri. + Sat. till 20:00)
venue:
Yokohama Creative Zone "ZAIM"
Participating artist:
Kohei Asano
,
Yoshihiro Kawasaki,
Akihiro Kubota,
Christophe Charle
s, Yasuro Suzuki, Jung Man-Young,
Kentaro Taki
,
Masahiro Miwa
,
Rhizome TV
(Naoya Ooe, Ryuji Otsuki, Taishi Kudo),
VCT/Videoart Center Tokyo,
and more!
presented by: Sound&Vision Comittie(YCAP, Rainbow, The Dark Room int.)
supported by:ZAIM
Cooperated by:
Tokyo University of the Arts:Department of Inter Media Art
(Furukawa lab.)
Musashino Art, University:Department of Imaging Arts and Sciences
,
Tama Art University:Department of Interaction Design,
Tama Art University:Department of Moving Images and Performing Arts
,
Kawaguchi Art School of Waseda University
,
Tokyo Polytechnic University:Department of Media art
IAMAS
, Hikari matsuri, Taguchi, On-coo, SHINKILOW, Evolution,
SANYO co. Ltd