Vital Signals
Japanese and American Video Art from the 1960s and 70s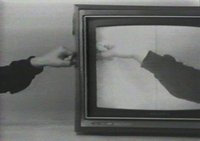 A retro spective video art screening will be held in Yokohama Museum of Art.
Details are here
.(in Japanse)
Taka iimura also takes part in video screening with his video pieces as "Camera, Monitor, Frame"('76), "Observer/Observed", "Man and Woman" etc.
Vital Signals:Japanese and American Video Art from the 1960s and 70s
date: 21(sat.), 22(sun.), 23(mon) November 2009
at Lecture hall,
Yokohama Museum of Art
presented by Yokohama Museum of Art, EAI