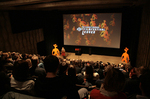 The 17th edition of the International Short Film Festival Leuven (Belgium) will take place from December 3 - 10, 2011 at Arts Center STUK and Cinema ZED. The festival programme consists of more than 120 screenings in 5 venues. The programme contains live action films, animated shorts, music videos, documentaries and non-narrative shorts. The festival screens about 275 short films from all over the world, divided into 30 compilations.
Deadline for international submission: August 3, 2011. Please fill out the on line entry form and send a DVD to: Fonk Vzw / International Short Film Festival Leuven / Naamsestraat 96 / 3000 Leuven / BELGIUM. Mark the package with 'festival preview copy - no commercial value'.
web site : http://www.shortfilmfestival.org/
ask details to upper film festival, please.